The Tampa Bay Buccaneers confirmed they were not shutting down rumors of Tom Brady's retirement. The Patriots quarterback is set to turn 40 later this month and many believe he'll be done after the upcoming season. These are still just rumors though, so he hasn't actually retired yet, but the Bucs weren't about to throw cold water on that speculation either.
Tom Brady has been shaking off rumors that he is retiring, on the other hand, Byron Leftwich isn't shutting down those retirement rumors.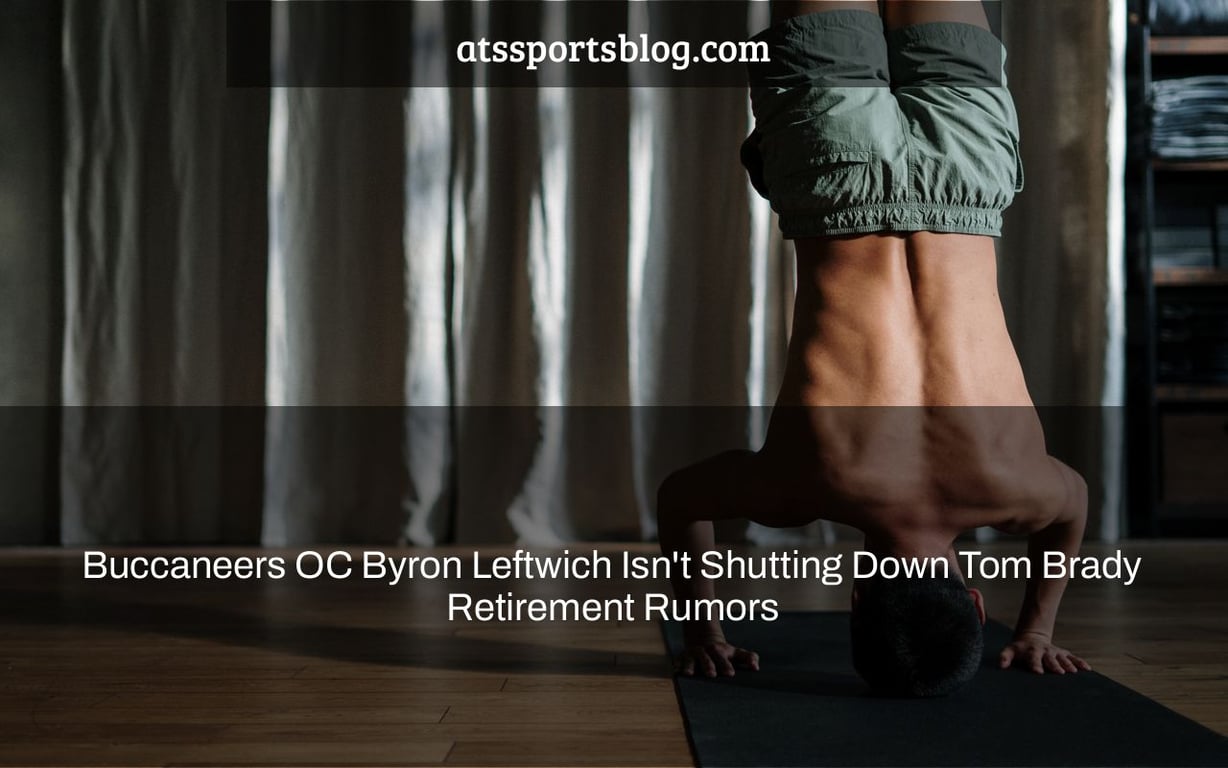 Tom Brady has been at the top of the NFL scene for the last two decades. It's difficult to deny the fear he's imposed on the rest of the league, whether you love him or detest him. Brady has regularly played like one of the finest quarterbacks of all time, first with the New England Patriots and now with the Tampa Bay Buccaneers.
However, with Brady turning 45 in August, it's tough to dismiss the possibility of him retiring soon.
Byron Leftwich, the Buccaneers' offensive coordinator, hasn't ruled out a retirement.
Bucs' offensive coordinator When asked whether he would be shocked if Tom Brady retired after this season, Byron Leftwich said no.
What was his response? "Man, Tom is playing at a high level. That's all I've got to say about it."
— Carmen Vitali (@CarmieV) January 20, 2022
Brady has said that he wants to play until he is 50 years old. He's also playing at such a high level right now that the chances of him putting up his cleats after this year's playoffs are limited. When questioned about the matter, Buccaneers offensive coordinator Byron Leftwich responded with a cryptic comment.
Leftwich added, "Tom's playing at a high level, guy." "I'm going to leave it at that."
Leftwich didn't do anything to put an end to speculations of his retirement. His evasive response simply adds gasoline to the flames surrounding Brady's potential retirement.
To add to the intrigue, former Patriots teammate Rob Ninkovich recently joined in, stating that he believes Brady will retire.
"It wouldn't surprise me if Tom Brady wanted to leave the Patriots and do whatever he wants," Ninkovich told ESPN's Get Up.
Perhaps Leftwich and Ninkovich are privy to information that the rest of us are unaware of.
Tom Brady's contract runs through 2023, and he's playing at an MVP level.
When asked whether he would be shocked if Tom Brady retired after this season, Leftwich responded: "Man, Tom is playing at a high level. That's all I've got to say about it."
— Greg Auman (@gregauman) January 20, 2022
From the outside looking in, 2022 seems to be a long shot as the year Brady hangs up his cleats.
The future Hall of Famer is coming off a season in which he surpassed 5,000 yards and topped the league in a number of statistical categories. He also guided the Buccaneers to a stress-free Wild Card Round victory against the Philadelphia Eagles.
Clearly, the man is still capable of playing at a high level.
What would it mean for the Buccaneers if Tom Brady announced his retirement on his own?
Byron Leftwich, the offensive coordinator, speaks with Tom Brady | Michael Reaves/Getty Images
If we give some credence to Leftwich's and Ninkovich's claims and travel a little farther down the rabbit hole, the Buccaneers might be in real danger if Brady decides to retire this spring.
Brady has often said that he wants to play in the NFL for as long as he can. However, a humiliating defeat to the Los Angeles Rams this weekend, for example, may alter his mind. If you're in the NFL as a mid-40-year-old and you're not winning, it's a lot less enjoyable.
With all of that stated, the Buccaneers are in a difficult situation if Brady decides to retire this summer. They don't have a capable backup quarterback on the roster, and they don't have enough premium draft capital to make a trade for a new quarterback.
Furthermore, numerous Buccaneers players are undoubtedly in Tampa Bay just to play for Brady. Rob Gronkowski and Leonard Fournette, for example, may be able to go with their quarterback.
In the end, Brady seems to have a couple more seasons left in him. This season, he may even win another Super Bowl. However, it's difficult to ignore the haze that has engulfed the situation. Brady will depart the NFL someday, even if it isn't this offseason.
Pro Football Reference provided all stats.
RELATED: Former Buccaneers WR Antonio Brown Gets Some Much-Needed Momentum After Bruce Arians' $50,000 Mistake
The "tom brady breaking news" is a rumor that the Tampa Bay Buccaneers offensive coordinator, Byron Leftwich, isn't shutting down. The rumors started after Tom Brady announced his retirement from the NFL.
Related Tags
tom brady byron leftwich
tom brady retired
byron leftwich
where was tom brady born