The Detroit Lions have an early pick in the NFL Draft, which begins on April 26th. The team will look to bolster it's roster with some young talent that can help turn around a struggling franchise. Here is my 2nd edition of their 3-round mock draft!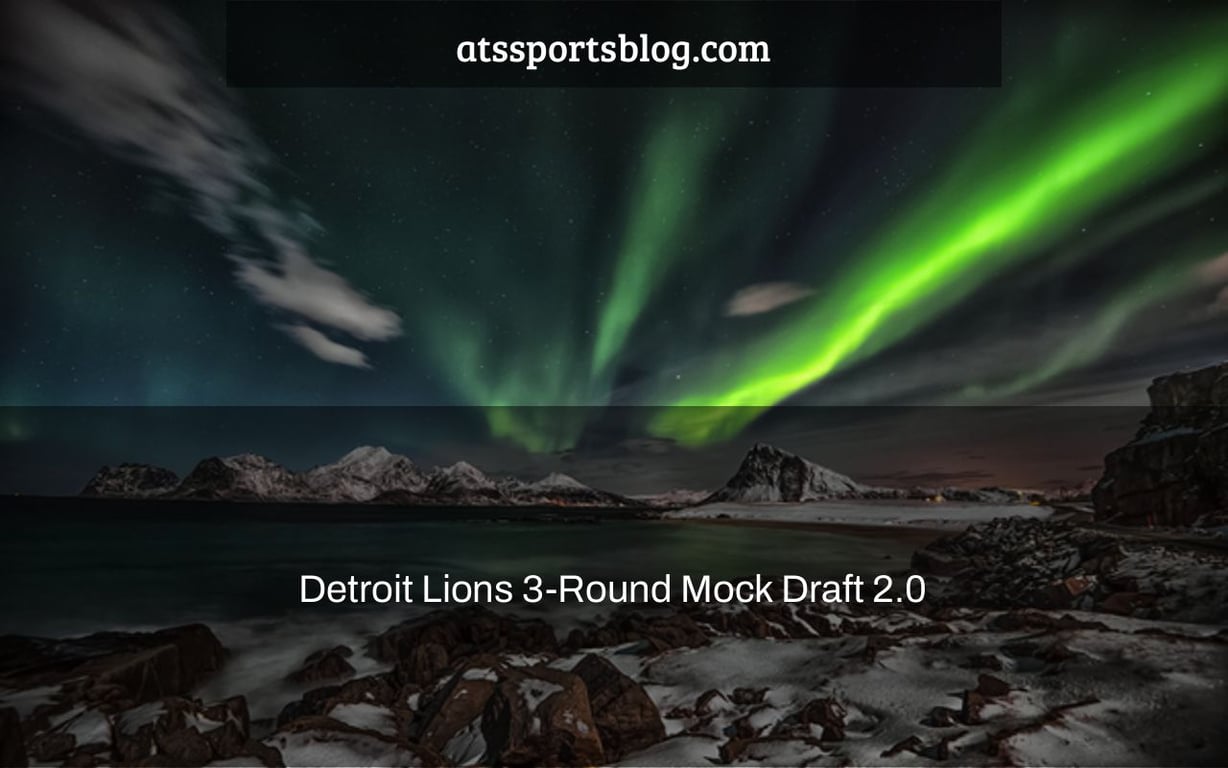 In 2021, the Detroit Lions shocked a few folks. Sure, they went 3-13-1 in the regular season to earn the No. 2 overall selection in the 2022 NFL Draft. The club, however, gave first-year head coach Dan Campbell a fight for his money and gave some teams a run for their money. The team now has the opportunity to take the next stage by selecting five prospective starters in the first three rounds. In our Detroit Lions mock draft, we'll show you how to do it.
Mock Draft 1.0 for the Detroit Lions 
Tim Bradbury/Getty Images; Steven King/Icon Sportswire via Getty Images; David Rosenblum/Icon Sportswire via Getty Images; Desmond Ridder, Dan Campbell, Lewis Cine | Tim Bradbury/Getty Images; Steven King/Icon Sportswire via Getty Images; David Rosenblum/Icon Sportswire via Getty Images
In Sportcasting's most recent Detroit Lions mock draft, the club selected one of the best prospects in this year's draft, followed by a possible franchise quarterback at the end of the first round. In the latter rounds, the Lions concentrated on improving their defense, which was ranked 31st in the NFL in 2021. This is what the mock draft looked like: 
Kyle Hamilton, S, Notre Dame, Round 1, No. 2 overall
Matt Corral, QB, Ole Miss, Round 1, No. 32 overall
Nakobe Dean, LB, Georgia (round 2, No. 34 overall)
Josh Paschal, EDGE, Kentucky, 3rd round, No. 66 overall
WR Wan'Dale Robinson, Kentucky, 3rd round, No. 97 overall
With the draft approaching in less than a week, draft boards have firmed up, and prospects have risen and dropped. Hamilton has most certainly dropped out of the top five, while Dean has most likely advanced to the first round. With those changes in mind, here's a three-round mock draft 2.0 for the Detroit Lions. 
Aidan Hutchinson, EDGE, Michigan, Round 1, No. 2 overall
I've come to think that Jacksonville Jaguars general manager Trent Baalke prefers to choose measurables above production, which implies Georgia edge-rusher Travon Walker will be the No. 1 choice in the 2022 NFL Draft. That means Aidan Hutchinson, the franchise's dream choice, is at No. 2 in this Detroit Lions mock draft. 
Last season, just one Lion (Charles Harris) recorded more than 7.5 sacks, and the Lions' 30 sacks were the third-worst in the NFL. Hutchinson is the most NFL-ready pass rusher in the draft, and he'll improvise a Lions pass rush. He's also a local lad who will help sell season tickets, and he's the leader a growing defense needs. 
If the Jaguars choose someone other than Hutchinson, Detroit general manager Brad Holmes will race to the podium and sign a card for Hutchinson. 
Desmond Ridder, QB, Cincinnati, 1st round, 32nd overall
One thing that all Detroit Lions fans can agree on is that Hared Goff isn't the franchise's long-term quarterback. The club would love to choose a franchise quarterback at No. 2 this year, but none are available. Taking one at No. 32 in this Detroit Lions mock draft is the greatest option. 
Many mock drafts had Ole Miss quarterback Matt Corral as the first choice, but if Cincinnati quarterback Desmond Ridder is available, he should be taken. Ridder has a nice arm and is athletic, but he isn't exceptional in any area. He is, however, physically capable of playing in the NFL, and that is where the remainder of his career will begin. 
Ridder is a winner and a leader (team captain) (guided the first non-power five school to College Football Playoffs). Between his junior and senior seasons, he also developed and now has superb technical form. Ridder might be the jewel of the bunch in a draft with a weak overall QB class, which is why the Lions should choose him with their second first-round choice. 
Lewis Cine, S, Georgia, Round 2, No. 34 overall
After the Lions finish the first round, there will be a day off until the following day, when the Jacksonville Jaguars will make one selection, and Detroit will be on the clock once again. On Day 2, having a top three to five choice shouts out as a chance to trade back. Rival GMs have over 24 hours to stew and dream about a slid player who is still on the board. The Lions should be able to obtain a good return on this choice. 
All things considered, Georgia safety Lewis Cine is the choice in this Detroit Lions mock draft, providing they don't trade out. Cine is 6-foot-2 and weighs 199 pounds, yet he plays as if he is 6-foot-5 and 250 pounds. He's a downhill hitter who set the tone for Georgia's All-World defense last season. 
He won't be an outstanding centerfielder or covering safety, but he'll be a force down in the box. He even played linebacker at Georgia, and if he can gain weight, he may be a hybrid at the next level. Most importantly, Dan "MCDC" Campbell will like Cine's disposition, which is reason enough to choose him. 
Channing Tindall, LB, Georgia, 3rd round, No. 66 overall
Let's keep the Georgia defensive theme going for the rest of this Detroit Lions mock draft. Linebackers Nakobe Dean and Quay Walker receive all the attention (and will be long gone by this time), but there was a third outstanding linebacker on Georgia's illustrious defense: Channing Tindall. 
Tindall is a 6-foot-2, 230-pound inside linebacker who runs the 40 in 4.47 seconds. He may not be as athletic as some of the other LBs in this draft, but he has the size and speed to roam from sideline to sideline and make a lot of tackles. He can also rush the passer as an OLB. 
Also, if the Lions do choose Cine, he and Tindall should have a great deal of chemistry together, which would be ideal for building a defense around. If the Lions pass on Hutchinson in favor of Travon Walker, they have a chance to turn Detroit into Bulldogs North. And, if it's any consolation, he's one of Mel Kiper Jr.'s favorite draft prospects (h/t 247Sports' Kipp Adams). 
Jelani Woods, TE, Virginia, 3rd round, No. 97 overall
Last but not least, in this three-round Detroit Lions mock draft, the club ventures outside the box to satisfy a need, making their head coach pleased in the process.
With last year's breakthrough sensation Amon-Ra St. Brown and free-agent addition D.J. Chark on the roster, the club needs another weapon at wide receiver in this draft, but it isn't the highest priority.
The top two to three tiers of wide receivers will most likely be off the board by selection No. 97, so the Lions will have to be inventive. Jelani Woods, a 6-foot-7, 259-pound Virginia tight end, enters the picture. T.J. Hockenson is a quality tight end for the Lions, but they lack depth behind him, and the former Iowa Hawkeye has already missed nine games in three seasons.
In the current NFL, having two outstanding tight ends, particularly if both of them are excellent pass catchers and willing run blocks, as Hockenson and Wood are, is a significant asset schematically. Furthermore, having the two of them together would make veteran TE Dan Campbell very pleased.
Pro Football Reference provided all stats.
RELATED: 'Hard Knocks': 3 Must-Watch Characters Who Could Make the Detroit Lions America's Favorite Football Team