I review the newest installment of this baseball franchise. There are improvements made throughout, but players may feel limited by more fluidity in gameplay and a lack of attention to detail on some aspects.
The "mlb 2021 the show" is a baseball game that was released by Sony on October 4, 2020. The game features all 30 MLB teams and includes an updated roster, new stadiums, and many more improvements.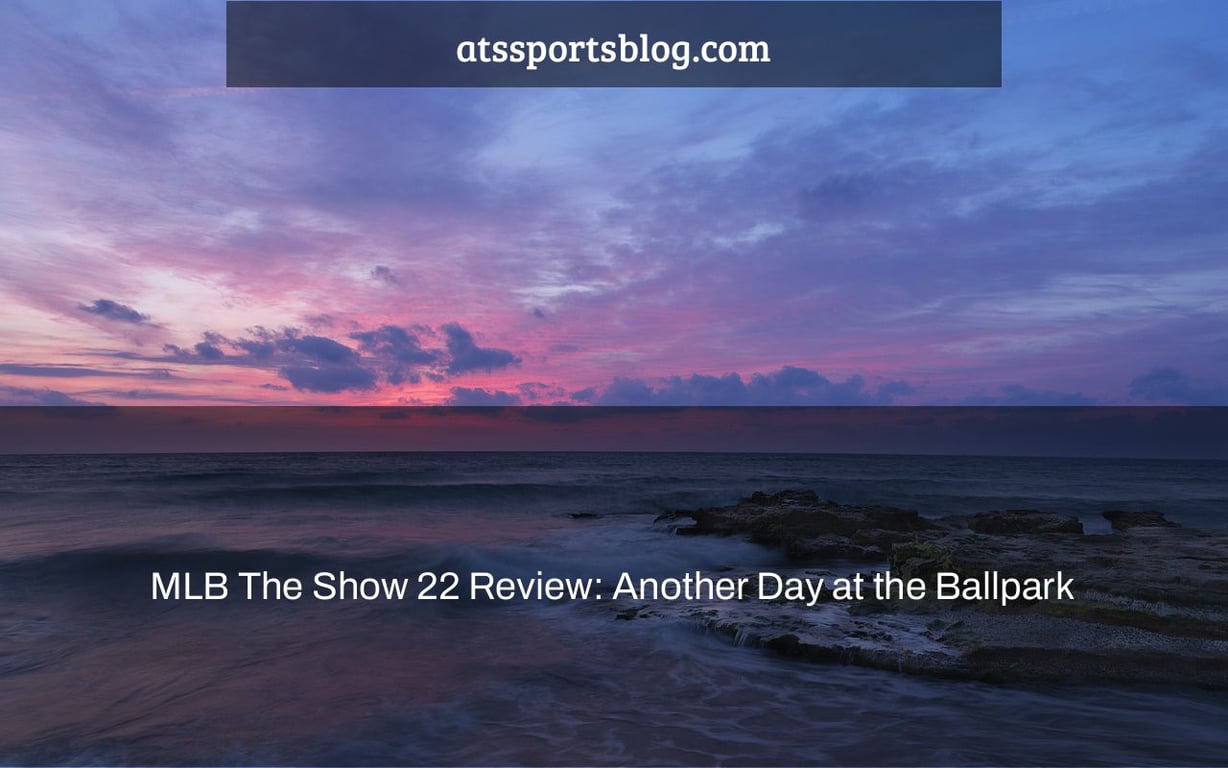 MLB The Show 22, the most current chapter in the most successful American baseball series in recent years, takes the field as the second multi-platfrom installment in as many years. While the San Diego Studios offering doesn't add many new elements to the field this year, it still outperforms the competition in baseball simulation.
It continues to draw away from other baseball rivals with its pitching and hitting mechanics, March to October mode, and online suite, being the greatest option on the market for baseball aficionados. 
Another Day at the Ballpark: MLB The Show 22
For long-time fans, the inclusion of Jon "Boog" Sciampi and Chris Singleton from MLB on ESPN Radio as the play-by-play commentary team is one of the most significant changes to the series (Matt Vasgersian had been with the series since the first game).
Better online co-op has been implemented, including for Diamond Dynasty. The months of March through October have been revamped and may now be played for numerous seasons. The Stadium Creator has been updated in next-gen editions of MLB The Show 22, however it has been left out of the PS4 and Xbox One versions of the game. Finally, the physics have been tweaked to make the gameplay more realistic.
The graphics in MLB the Show 22 aren't very impressive. When upgrading to the newest generation of consoles, MLB The Show 21 saw the most significant advancements in this area. Mind you, it looks fantastic, but then again, so does every other big sports game at this point. In terms of fidelity, there's nothing that sets this distinct from comparable games.
The sound design is similar to that of the visual design. The music for MLB The Show 22 is good, although it and the commentary lines may become old after a few seasons (something that, again, pops up in every other sports game). 
MLB The Show 22 has excellent control for the majority of the game. The gaming mechanisms are quite detailed, particularly for pitching and hitting, allowing for a deep and competitive experience. It's not easy to pick up and play, but understanding the system is really gratifying; hitting doubles, triples, and home runs when you were hitting fouls and striking out more often early in the season feels fantastic.
When you're at bat, you have a variety of swings to choose from that enable you to hit for greater power or accuracy. You have greater control over the path of your swing, so you're more likely to hit a pop fly to center or a grounder to left. MLB The Show 22 performs an excellent job at offering feedback on your prior swings to help you improve.
The controls are also enjoyable to use while pitching. Each pitcher has their own unique technique, using a variety of pitches to keep hitters guessing. Star pitchers like Shohei Ohtani will have more choices to distinguish themselves as greats than your typical create-a-character rookie, which adds a wonderful element of reality.
In-fielding and out-fielding are also adequate, albeit they lack the complexities of pitching and hitting, which is understandable. The concept is designed to give you as much control over a player's actions as possible, including the ability to preload throws while catching to ensure you get the triple play of your dreams.
While there are many things to like about the system, it is a lot to master for a novice and might seem clumsy at first. Controlling my personalized character in the Road to the Show was a frequent challenge for me. I was able to get on base quite quickly, but when the camera angles shifted from first to second, my character would often stop sprinting and stand between bases, expecting to be picked off. It's a kink that can be worked out with experience, but it might be irritating at first.
The Road to the Show, Diamond Dynasty, March to October, and Franchise modes are the key attractions of MLB the Show 22. Diamond Dynasty is the ultimate team, kind-of-a-cash-grab card based game mode, while Road to the Show is the create-a-character narrative mode. Franchise is, of course, a multi-season franchise simulation game.
They're exactly as good as they were in 21 and will provide you numerous hours of entertainment between the games and earning gear, cards, icons, and other items.
While those modes have mostly remained same, March to October has undergone a major update that offers additional substance to a previously underappreciated gameplay option. March to October is a shortened version of Franchise mode in earlier editions of MLB the Show: you choose a club and lead them through a single season. Unlike Franchise, though, you only get to play the most essential sections of the season.
Multiple seasons are now available from March through October, and participants may create their own teams. It's a little tweak, but it's one that makes giving the mode a second look worthwhile. 
There are also good gameplay modes including Exhibition, which allows you to play a non-season game versus CPU or human opponents, and Retro mode, which is a game type that emulates old-school baseball games from the PS1 period, for solid couch co-op fun. Weekly challenges are also available to help you gain player cards, icons, equipment, and more; the top scorers will get additional benefits.
The Bottom Line in MLB The Show 22
Pros:
The greatest MLB game available.
The series has seen significant advancements, particularly in the March to October mode.
For competitive gamers, online modes with weekly challenges are a huge appeal.
Cons:
The changes and improvements between MLB The Show 21 and 22 are minor.
Finally, like the rest of the series, MLB The Show 22 is a powerhouse, but it suffers from the sports-game issue of annual editions: it just doesn't introduce enough new features. Most long-time fans won't mind, but if you're waiting for an improvement, this is simply another, although decent, season. 
[Note: The copy of MLB The Show 22 used for this review was supplied by Sony Interactive Entertainment.]
Related Tags
who makes mlb the show
mlb the show 21 features
mlb the show switch