Tom Brady has had a hand in the careers of many NFL coaches, but none so much as Bruce Arians. Only two weeks after Arians announced his retirement, rumors began to circulate that Brady may have played a role. The mystery culminated when it was revealed on Monday morning by Fox Sports' Jay Glazer that he spoke with Tom and told him it was time for him to retire too
Tom Brady almost definitely played a role in Bruce Arians retiring. The Patriots have won every game that Brady has started, and the Cardinals have lost every game that he has started. Read more in detail here: nfl.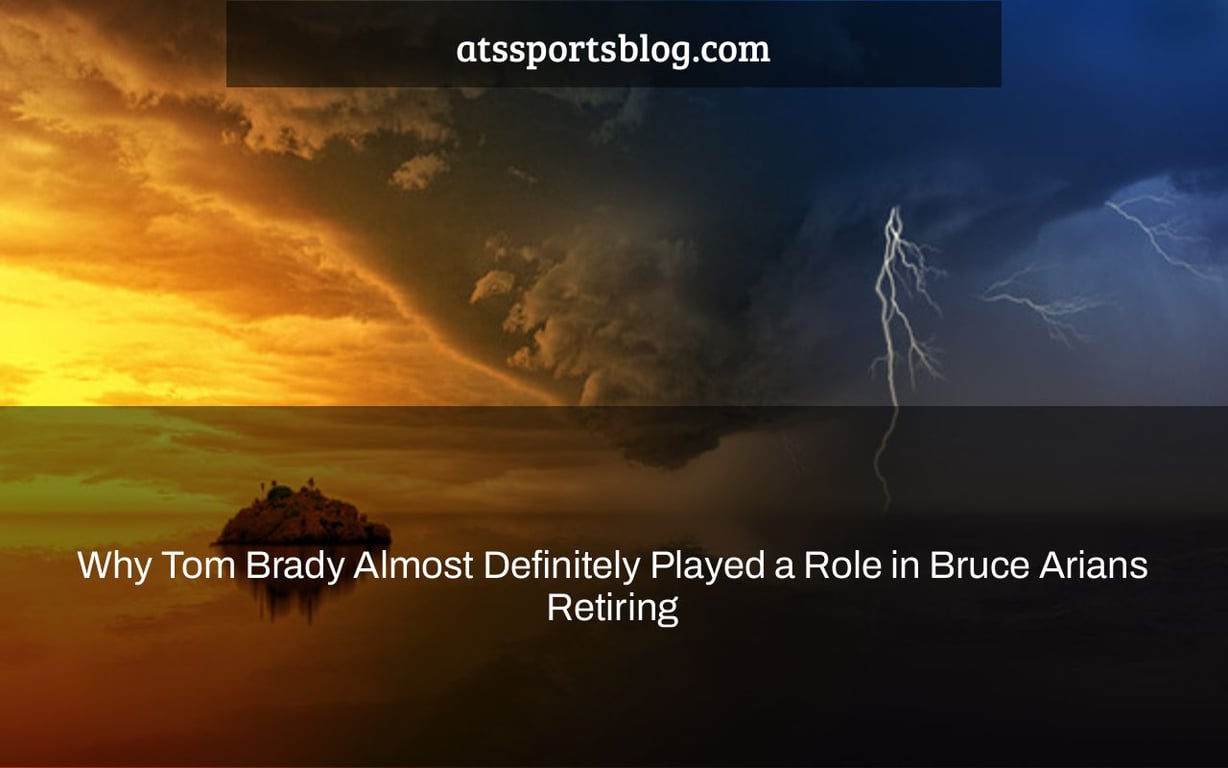 When Tom Brady announced his comeback to the NFL after a brief hiatus, everything was well inside the Tampa Bay Buccaneers organization. It was till it wasn't.
Long-time Buccaneers head coach Bruce Arians announced his retirement from coaching and transitioning to a front-office job only weeks before the 2022 NFL Draft. Arians swore up and down, left and right, that his choice had nothing to do with Brady at his retirement news conference. It doesn't take a rocket scientist to figure out that the two circumstances are intertwined.
After the Buccaneers' playoff defeat, there were rumors that Tom Brady and Bruce Arians didn't get along.
Heard some interesting things recently… The Tom Brady & Bruce Arians honeymoon was over in Tampa. The retirement announcement wasn't because of the trouble seeing eye to eye on the offensive game planning, but the relationship was souring.
— Rich Ohrnberger (@ohrnberger) February 18, 2022
It's necessary to go back in time earlier in the offseason to adequately explore this issue. Following the Buccaneers' heartbreaking Divisional Round defeat to the Los Angeles Rams, reports surfaced that Brady and Arians were at odds in terms of game strategy.
Rich Ohrnberger, a former NFL offensive lineman, was the first to convey this opinion from Tampa Bay.
Brady and Arians looked to have a solid chemistry at first impression. In 2020, they won the Super Bowl together, and in 2021, they were filling the stat sheets. However, according to Rich Ohrnberger, a former NFL player, the relationship started to "sour" at the conclusion of the 2021 season.
"Apparently, when Arians was healing his Achilles, offensive coordinator Byron Leftwich and Brady would work on the week's game plan in the mornings while Arians was rehabbing his Achilles. Later, Arians would come in and apply the red ink to the job they'd completed. Both the quarterback and the offensive coordinator felt betrayed. In response to the above-embedded post, Ohrnberger replied, "There was tension."
Sportscaster David Esser
Tom Brady has the authority to impose conditions on his coaching staff.
"Bruce Arians' decision to resign was largely influenced by Tom Brady. You're stepping down today, we'll have a news conference tomorrow, and you'll say all the proper things, Brady told BA. 'It's BA or me,' I think Tom Brady told management."
— @ShannonSharpe pic.twitter.com/rPDGQPsaAY
— UNDISPUTED (@undisputed) March 31, 2022
From the outside, it seems like Brady only consented to return to the Buccaneers because of a conspiracy idea. To get there, you'd have to put on a tinfoil hat for a few minutes.
However, after revisiting the Ohrnberger reports from earlier in the offseason, it doesn't seem to be that far-fetched. Brady's choice to retire was never a good one to begin with. He was only one blown coverage away from bringing the Rams to OT in the Divisional Round after a 5,000-yard season in 2021. He's obviously capable of capturing a Super Bowl ring for the seventh time.
With this in mind, it seems reasonable that Brady assured Buccaneers ownership that if Arians was removed, he would return. Brady has enough clout in the Tampa Bay locker room to do anything like that. The Buccaneers would have been insignificant this season if he hadn't come in.
It makes sense for the Buccaneers to hire a defensive coordinator.
Tom Brady #12 speaks with Bruce Arians, the team's head coach | Tim Nwachukwu/Getty Images
The Buccaneers replaced Arians with Todd Bowles, a defensive-minded head coach, which just adds fuel to the fire.
Bowles will serve as the team's de facto full-time defensive coordinator, while Brady and Byron Leftwich will be in charge of the offense — something Arians refused to give up in 2021.
When it comes to coaching and/or personnel selections, Brady has never been one to cause a ruckus behind the scenes. For years, he had to put up with Bill Belichick's icy approach. However, as the future Hall of Famer approaches a permanent retirement, it's evident he's more eager to use his worth as a weapon.
Brady is adamant about getting things done his way. He'll just leave if he isn't accommodated.
Like Sportscasting on Facebook. Follow us on Twitter @sportscasting19.
HC HC HC HC HC HC HC HC HC HC HC HC HC Mike McDaniel Calls Out Tom Brady Rumors as "Fake News"
The "bruce arians hat" is the last straw for Bruce Arians. He was forced to retire from coaching after being released by the Arizona Cardinals. This comes as no surprise, as Tom Brady has been known to have a hand in many coaches' departures over the years.
Frequently Asked Questions
Did Brady know Arians was retiring?
A: Yes.
Who is the coach of the Tampa Bay Buccaneers?
A: Will Grier is the current coach of the Tampa Bay Buccaneers.
Related Tags
todd bowles
espn
buccaneers head coach
tom brady retired
who is tom brady playing for